It's about moving. It's about getting healthy!
The Modesto Marathon is March 19, 2017. Want to run it?  Walk it?  26.2 miles…13.1 miles… 3.1 miles? It's your choice. Whether you're a runner, a walker, a little bit of both, or you have been too busy with work, family, and life to think about your own health, let the Modesto Marathon Training Group help you "move forward."  Move forward to a new you.
Let us take you on the journey. Not only the journey to the finish line in March, but the journey of a healthy lifestyle, a lifelong journey in pursuit of fitness and health. This is one journey that doesn't have a finish line. While the short term goal may be finish line on March 19, 2017, the ultimate goal is to help you realize you are important and you're worth taking the time to invest in yourself.
You'll develop new healthy habits, both physical and mental. You'll meet new friends with similar interests, goals, time constraints, and maybe even the same types of excuses!
So many of you are committed to the needs of your family that you forget to take care of yourself. Join our group, and let us help you adopt a lifestyle for a lifetime!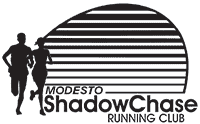 Here's what's in it for you
24 week training calendar
Team social events and fun runs
Custom technical training shirt
Education: Proper pacing, form, and fueling
RRCA certified coaches
Seminars
Aid Stations for long runs
Weekly emails
Make new friends
Online forum
Varied training locations
Lowest priced marathon training
And … a lifelong commitment to you AND your health! You're most definitely worth it!
Contact Mike Mason at (209) 605-2378 or Susan Taylor at (209) 499-0258. They can also be reached at training[at]modestomarathon.com.
We provide training for all levels, from beginners to runners to walkers. All levels welcome!
Don't miss out on this opportunity to get active and fit! Be a part of the ShadowChase Running Club training group.
Cost of the training program is just $50 per person plus ShadowChase membership.
Find out more at one of our informational meetings:
Saturday, September 10th @ 2:30pm
McHenry Village Conference Center; Da Vinci and Einstein Conference Rooms
Monday, September 12th @ 6:30pm
McHenry Village Conference Center; Barton Conference Room
Monday, October 10th @ 6:30pm
McHenry Village Conference Center; Barton Conference Room
Special Thanks To Our Sponsors